Tesla: More Margin Pressure On The Horizon – Tesla, Inc. (NASDAQ:TSLA) – Seeking Alpha
In our most recent research note, we discussed the recently leaked email from Elon Musk to all Tesla (TSLA) employees, in which he discussed – among other things – the progress of the long-awaited $35,000 short-range version of the Model 3 sedan. We explained that given the cost per vehicle is currently about $38,000, there is little hope of Tesla producing the cheapest Model 3s profitably.
In Q3, the company reported a 20% gross margin for the Model 3. While impressive, this high margin came only as a result of prioritizing the highest-margin Model 3 orders. The company also relied on radical improvements made to production efficiency. It is highly unlikely it will be able to find many more efficiencies of that order.
Tesla now faces a dilemma. On the one hand, the backlog of pent-up demand for the long-range Model 3 is pretty much exhausted, so it needs to move into the mass-market segment to keep its growth narrative alive. On the other hand, entering the mass-market with a low-profit short-range Model 3 could kill Tesla's margins.
In this research note, we dig a bit deeper into this subject and examine a particular weakness of Tesla: its lack of a cash cow product to absorb the impact of loss-leading or low margin products.
While it is quite common for automakers' lowest-cost offerings to have negligible or even negative margins, as E.W. Niedermeyer of Automotive News has pointed out, this would be bad news for Tesla due to its limited number of vehicle offerings. Conventional automakers can offset any losses from selling low-cost products with huge profits from their high margin segments. SUVs and crossovers offer the fattest returns of any mass-market vehicles. If Tesla were like these car companies, it could theoretically afford to sell a $35,000 Model 3 near cost or even at a slight loss. But Tesla is not like other mass-market automakers.
Unlike most of the big auto companies, Tesla does not have a hugely profitable pure SUV to sell. Its high margin products consist of the Model S luxury sedan and the Model X luxury crossover. In Q3, Tesla reported marginal improvements to the gross margins of both of these models: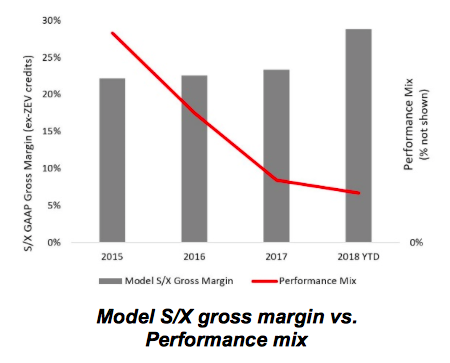 In Q3, Tesla reported gross margins of about 33% for the Model S and Model X. Since the company only reports a combined number, the best we can do is estimate the margin contribution from each line.
33% gross margins are very solid. But they may not last much longer. Thanks to an array of forces, both the Model S and Model X are facing new pricing pressure.
One of the forces threatening Tesla's margins is the ongoing trade conflict between the United States and China. It has been reported that combined Model S and Model X sales may have fallen by as much as 70% in October, thanks to punitive tariffs leveled at American automakers. While Tesla has denied the report, calling it "wildly inaccurate," it has cut the sales prices of the Model S and Model X by 12% to 26% in China. Clearly, tariffs are biting hard indeed, even if it has not caused quite so severe a drop in demand as has been reported. A price cut of 26% can erase most of the margin of even a fully loaded Tesla.
The other margin-compressing force is competition. Tesla has had the luxury EV space pretty much to itself for years. That is rapidly changing. Jaguar's I-Pace electric crossover, for example, has made quite a splash in Norway and the Netherlands since debuting this quarter, as can been documented consistently by Twitter's TeslaCharts:
With these forces working against the profitability of the Model S and Model X, margins are likely to come down – perhaps by quite a lot as an increasing number of high-performance EVs come on the market.
In Q3, the combined Model S and Model X ASP fell compared to the previous quarter, largely thanks to discounting – a practice that appears to be in full swing once again this quarter. Despite the lower ASP, margins improved marginally, thanks to offsets including a drop in depreciation cost per vehicle.
Investors' Eye View
Given all these factors, it is reasonable to conclude that Tesla's Model S and Model X lines will also be facing margin compression in successive quarters, and will thus not be able to offset the increasingly lower margins from the Model 3 mix.
What this means for Tesla is clear: While Q3 showed drastic improvement in Model 3 margins, as well as more modest improvements for those of the Model S and Model X, this situation will likely reverse. If this transpires, it will mean a rude awakening for Tesla shareholders.
Disclosure: I am/we are short TSLA.
I wrote this article myself, and it expresses my own opinions. I am not receiving compensation for it (other than from Seeking Alpha). I have no business relationship with any company whose stock is mentioned in this article.