Is Activision-Blizzard A Buy Down 45%? – Seeking Alpha
Video games have always been an important part of my life. I remember one Christmas as a young child when my father bought my brother and I a Sega Saturn. A few years later, we saved up our allowances and money made from mowing lawns and shoveling snow to buy a Nintendo 64. At this point in time, I can't imagine life without video games. They're my favorite pass time. And I know I'm not alone.
It's a bit embarrassing, really, how many hours of my life I've spent in digital worlds. In high school, my parents made my brother and I play a sport every season because they knew that otherwise, we'd both come home and spend all night on the consoles. Thankfully, that plan worked out for everyone. My brother and I were both division one athletes and still have a love for gaming to this day, which allows for us to keep in close contact via Xbox Live.
This passion for gaming has spilled over a bit into my investing life and lately, during the video game sell-off, I've become interested in adding exposure to this industry to my portfolio.
I follow a handful of gaming related names, though at the moment, the main exposure that I have to the industry is via Microsoft (MSFT) and NVIDIA (NVDA) (with ancillary exposure via Alphabet's (GOOGL) YouTube, Amazon's (AMZN) Twitch, and Disney (DIS) via ESPN). However, the recent tech-wreck has potentially opened up opportunities in the gaming space and that's what I'm going to be discussing in my next two articles.
In this piece, I'm going to be breaking down Activision-Blizzard's (ATVI) attractiveness as a potential long-term investment. However, before I do, I want to take a step back and highlight some growth data related to the video game industry for those who aren't as familiar with these companies/gaming as I am.
I think that anyone interested in investing in media names should also be interested in video games. In a changing media/entertainment landscape, video games are taking market share away from every other traditional source. Entire entertainment platforms have risen up on the heels of gaming interest. Furthermore, eSports Leagues are popping up left and right now and viewership/attendance is growing rapidly. Sure, a large eSports championship isn't going to compete with the World Series or the Super Bowl in the near future, but I think we're headed towards a future where these digital competitions will have the same sort of recognition as traditional sporting leagues.
An April 2018 Newzoo article goes further to highlight these growth trends with his great graphic showing the long-term growth of the gaming market as a whole. As you can see, the industry as a whole as a double digit CAGR since 2012. It's important to note that the majority of this growth is coming from the mobile segment. This is the generate direction of society in the digital era. There are billions of active handsets world wide and broadband internet penetration continues to rise. As the 5G rollout happens, the power of mobile gaming will only increase. As technology improves, I suspect that the consul and mobile games will sort of merge into one with new trends like virtual reality taking over the home console/PC market. All of the gaming companies are working to adapt to these trends and I think the future of the industry is bright.
Source: Newzoo
However, PC and console gaming isn't dead either, as shown by recent sales data. Sales continue to rise and set records in the gaming space. October sales data was just released and the numbers were great. Gaming related sales were up y/y for the 7th consecutive month. Game sales increased 73%, notching a new October record. But, it wasn't just the games like Call of Duty and Red Dead Redemption that fueled growth. Console sales increased 26% during October with accessories posting 54% growth. Some of the chip related names like Advanced Micro Devices (AMD) and NVDA have sold off recently on fears that gaming demand is slowing, but the October numbers paint a different picture.
This October sales report also shed some interesting light on the recent weakness experienced by ATVI. Activision-Blizzard is down 40% from its 52-week high. A year ago, this weakness would have seemed absolutely crazy. ATVI is a former darling in the gaming space, having made huge headlines with its Overwatch League in the eSporting arena. ATVI was viewed as a leader in eSports, with strong console and mobile offerings to boot. However, here we sit with the stock near 52-week lows, in large part because of a recent slip up at BlizzCon and a change in sentiment regarding the company's true alignment with gamers.
Blizzard totally botched the announcement of the upcoming Diablo Immortal release. Gamers were expecting a Diablo 4 announcement for PC (and potentially console), yet the company announced that it was bringing a Diablo mobile game to market. Adding insult to injury, it appears that the company was essentially subcontracting out labor to a Chinese mobile focused gaming firm. Gamers were both disappointed and disgruntled with the announcement and since then I've seen many bring up the idea that ATVI has lost its mojo of sorts.
There was also fears that the Call of Duty release wasn't as big as the company might have hoped. Fans and gamers alike have wondered whether or not entry of Fortnite into the first person shooter arena would be the nail in the coffin of what has been a Call of Duty franchise in decline. However, as the October gaming report showed, Call of Duty had a great launch, quickly becoming the best selling game of the year. This new caused the stock to bounce a bit when first announced, but since then shares have continued their slide and now sit back down near 52-week lows.
For much of the last year or so, ATVI shares have traded with a near 30x P/E multiple. This sort of multiple implies outsized growth. Many believe that the gaming industry has long-term growth tailwinds (I'm one of them). However, ATVI's fundamental growth doesn't quite match up with these expectations.
As you can see on the F.A.S.T. Graph below, the company's EPS growth has proven to be pretty lumpy over the last decade or so. The company has a huge revenue growth year in 2016 (up 41%), though the top-line growth has slowed during more recent years back into the mid-single digit range that it experienced prior to the mega-2016 figure.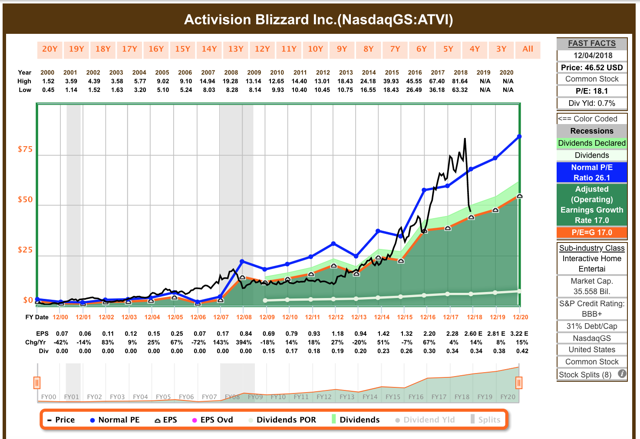 Source: F.A.S.T. Graphs
I have to admit that I bought into the ATVI hype a bit. In early/mid 2017, I used my monthly dividends to build up a small position in ATVI in the mid-$60's. I understood that the stock was expensive then, but I decided to start building long-term exposure anyway because of my bullish outlook on the company (and especially its I.P. portfolio). With names like Robert Kraft buying into the Overwatch league, I was really excited about the company's future.
However, in April of 2018 I decided to sell out of those shares as I changed out macro outlook a bit, moving to a more risk-off mindset. When trimming some of my more speculative holdings in favor of more income oriented, reasonably valued names, ATVI was one of the tickers that got cut. I sold my shares at $66.08, locking in a very small profit.
I've remained bullish on the company's future since, but with volatility spiking and talk of economic growth slowing, I've been happy to avoid some of the more growth oriented names in the market for much of the year.
Also, part of my original bullish thesis revolved around the M&A going on in the media space and an assumption that a company like ATVI might be an acquisition target. I assumed this played a role in the market's willingness to put such an outsized premium on the shares. I've long thought that Disney should attempt to get back into the gaming space in a big way and knowing that Nintendo (which would be my #1 acquisition target for Disney) is likely not going to be on the market to an American buyer, I thought that ATVI was the second best option.
ATVI has created vast and intriguing universes with its World of Warcraft and Overwatch IP. I can only imagine what a company like Disney could do with these settings and characters. AT&T got the ball rolling with its Time Warner acquisition. There was speculation that big tech might want to get involved as well, with companies like Amazon and Alphabet entering into the streaming fray. I thought ATVI was ripe for the picking, yet it seems that the only gaming names being bought are the small studios that Microsoft is picking up as it bolsters its gaming division.
I can only assume that the consolidation within the media/entertainment space is not yet over, though now that Disney has gone all in on Fox, I think that removes a large potential buyer from the equation. Because of this, my willingness to pay a premium for ATVI shares is much lower now than it was before. I still think the company is a global leader in gaming IP, though there doesn't seem to be much chatter about M&A in the gaming space. Maybe companies will take the Microsoft route instead of going after a big fish. Maybe brand names in the gaming space don't carry much of a moat. Only time will tell, I suppose, though I don't think M&A is a viable reason to buy shares.
Yet, with ATVI shares having been nearly cut in half, I figured it was time to give ATVI another look. ATVI's fundamentals are definitely headed in the right direction (in terms of offering better value), but for me to feel comfortable paying such a high premium, I want reliable, annual double digit growth. To cut to the chase, unfortunately, I still don't think the company can offer such results.
Today, ATVI shares trade for ~18x earnings. This is a far cry away from their recent premium valuations, but it's also not cheap. Although I understand this is an apples or oranges comparison, I have a hard time paying 18x for ATVI when I see other high quality names with long-term growth prospects that I believe in like Apple (AAPL) or FedEx (FDX) trading for ~14x earnings. it's also worth noting that ATVI shares traded with single digit P/E multiples as recently as 2012 which leads me to believe that the bottom isn't necessarily at hand.
Analysts are bullish on ATVI's EPS growth outlook for 2019 and 2020, currently projecting 8% growth next year and ~15% growth the year after that. With this in mind, an 18x multiple might not be all that far off from fair value. Personally, because of ATVI's small yield, I'd like to pay 15x for shares (which would equate to a ~2.0x PEG ratio based upon 2019 EPS growth estimates and/or a 1x PEG ratio looking out to 2020's projected growth). Simply put, since ATVI doesn't do much to contribute to my passive income stream very much in the present, I'm looking for a wider margin of safety before adding shares.
ATVI does offer attractive dividend growth numbers. The company has increased its dividend every year since initiating it in 2009 and offers investors a double digit dividend growth CAGR over that period of time. Furthermore, ATVI's payout ratio remains quite low (at less than 15%), which leads me to believe that management has room to continue to increase the dividend nicely, even if there are short-term operational issues. ATVI yields less than 1% at the moment, so it's definitely a dividend growth play and not a yield play for income oriented investors. Yet, while ATVI isn't oftentimes thought of as a stalwart within the DGI community, I wouldn't be totally surprised if this company has the title "Dividend Aristocrat" next to it in a couple of decades.
Source: F.A.S.T. Graphs
It's these dividend growth prospects that got me interested in ATVI originally (Take-Two Interactive (TTWO), which is another one of my favorite names in the gaming space doesn't pay a dividend making the choice between ATVI and TTWO, within my portfolio at least, an easy one). With that being said, I understand that most investors interested in the gaming space probably aren't of the dividend growth variety.
Gaming has become synonymous with growth tech and these investors could quite possibly be correct with regard to the long-term growth potential of this industry at large. Right now, with trade war and interest rate rhetoric driving outsized volatility, I'm in a more risk-off mode. I'm prioritizing value and reliable income over growth prospects. This conservative mindset could well be to my detriment, though I think I'm better off being safe than sorry when putting new money to work these days. But, for those of you who are still bullish on the broader market at large, ATVI could be an interesting opportunity here down 45% from the highs.
Disclosure: I am/we are long GOOGL, AMZN, DIS, AAPL, NVDA, MSFT, FDX.
I wrote this article myself, and it expresses my own opinions. I am not receiving compensation for it (other than from Seeking Alpha). I have no business relationship with any company whose stock is mentioned in this article.